Join us for Artists Sunday, Nov 27th
Thanksgiving is almost here! And do you know what else is almost here?
Our annual Artists Sunday Weekend Sale!
Arts Access is excited to join artists and organizations across the country for the third annual Artists Sunday, a nationwide event, the Sunday after Thanksgiving, November 27th, encouraging consumers to shop with artists and craftspeople. It's like Black Friday or Small Business Saturday but for supporting your favorite artists and shopping for art!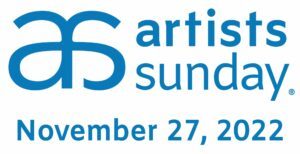 Shop with local artists and give something special, unique, and hand-crafted this holiday season! Plus, by shopping with artists you're also supporting the local economy. Join us on November 27, 2022 for Artists Sunday, shop art and support the artists you love.
What We're Doing On Artists Sunday
We're thrilled to be participating in Artists Sunday this year. Here's what to expect from us and our artists this holiday season!
Special Promotions and New Merchandise
Shop our Artists Sunday sale the week of Thanksgiving! Black Friday through Cyber Monday, get 20% off all merchandise in our online store. Sign up for our email list or follow our social media to get the exclusive promo code!
Check some of the latest additions to our Art Shop, including a new ceramic mug, hardcover notebook, head wrap, bracelet, and necklace!
What We're Doing This Holiday Season
Join us on Social Media for a special campaign celebrating our incredibly talented artists!
Receive exclusive content and the latest updates via email.
To be in the know, there are a couple things you can do:
Subscribe to our email list

here

. We'll send you updates about Artist Sunday events in the community, special offers, and more!

Make a holiday wish-list so your loved ones can gift you items from local artists.

Create a shareable wishlist using one of these tools.

Then send your list to your friends and family. Be sure to include your favorite pieces from Arts Access!
Art adds expression and beauty to our lives. The artists of Arts Access know and understand this well. Help us spread their passion for art this holiday season with the Artists Sunday movement. We hope you'll join us and the growing community supporting passionate and talented artists on November 29!
About Artists Sunday
Artists Sunday is a nationwide alliance of professional artists, nonprofit agencies, community organizations, and sponsors encouraging consumers to shop with artists, artisans and craftspeople. This artist-focused day takes place annually on the Sunday after Thanksgiving – the busiest shopping weekend of the year. Shoppers support local professional artists, find unique, personal gifts for their loved ones, and purchase something handmade. ArtistsSunday.com