Arts Access is a supportive, nurturing environment for self-expression, providing opportunities for artists to create, perform, exhibit, and sell their work. The program is a vehicle through which individuals with disabilities can have their ideas, imagination, and creativity come to life.
What are the benefits to Arts Access participation?
Regardless of their disability, clients are provided with the tools needed to participate fully in the art-making process, along with one unique additional tool: a human being. Not just any human being, but a professional artist facilitator who is trained to be the arms and legs of the participating artist. Every choice comes from the participant, from paint color and brush stroke, to dance movement and theatrical staging, to each written word. Through the creative process, individuals will gain self-confidence, choice-making skills, and will achieve the greatest level of independence possible.
Programs offered:
Traditional Painting
Digital Art: Painting & Sculpture
Choreography
Creative Movement
Creative Writing
*Drama/Playwriting 
*when available
All programs are offered both in-person and virtually.
Learn more about our programs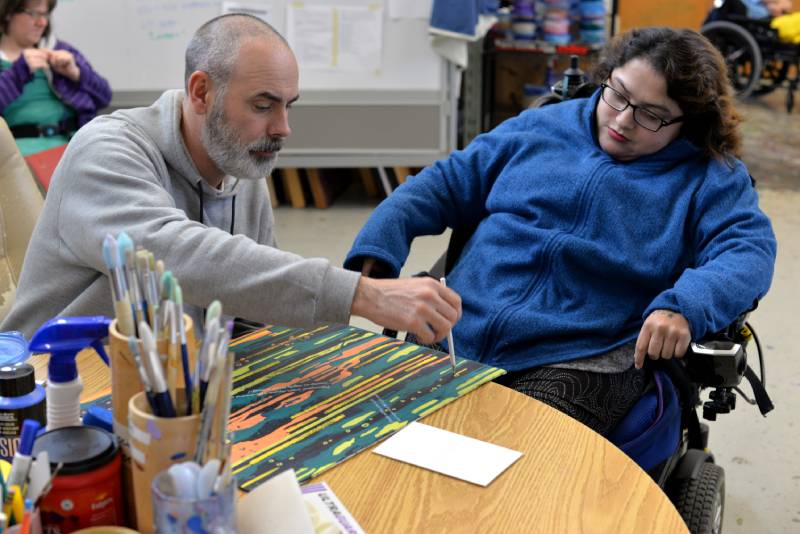 Private pay options available
Department of Developmental Disabilities

The Arts Access Program at Matheny is proud to be an approved service provider through the Department of Developmental Disabilities. This service is available to participants in accordance with the DDD Supports Program Policies & Procedures Manual and as authorized in their Service Plan. Arts Access staff is happy to work with Support Coordinators to secure funding for these exciting programs.
To learn how to become involved in Arts Access, contact our Outreach Coordinators: