$30.00 – $400.00
Listed in Digital painting, Prints
This image was created digitally on computer.
Creating digital art is among one of Mike's many talents. His work, which sometimes contains bold shapes and color, has been shown at Arts Unbound, Monmouth Museum, Johnson & Johnson, Morris Museum, Visiting Nurse Association, and Grounds for Sculpture. One of Mike's paintings was featured on the cover of the Arts Access book of prose titled Writes of Passage. "I want people to know that I am an important artist," Mike says. "I like to paint all the time."
A printed copy of the original work, size small. All prints use archival ink on premium paper.
Size: Digital Painting, 8.5×11″ Print, 13×19″ Print, 17×22″ Print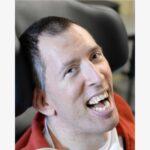 Mike was a multi-faceted artist and one of the original participants in the Arts Access program. His paintings often layer basic geometric shapes into more complicated patterns and designs. Mike had a brilliant sense of color and a sense of humor that shone through his working process. His innovative, jewel-like paintings tied together his interest in color and line, and are always intriguing and beautiful to look at.
See More Work By Mike Young »