$30.00 – $50.00
Listed in Acrylic on canvas, Prints
Acrylic on canvas, 70 x 19″. The original painting is in private collection; however, prints are available in three different sizes.
A printed copy of the original work, size small. All prints use archival ink on premium paper.
Size: 8.5×11″ Print, 13×19″ Print, 17×22″ Print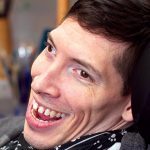 A vigilant and hard-working artist, Mike is a long-time participant in the Arts Access program. Though he works in many disciplines, Mike has a clear affinity to digital art. His ever-evolving artistic sensibilities imbue Mike's art with great insight and subtly. Mike is patient and exacting, always determined to execute his concepts exactly as he visualizes them. "I want people to think that my paintings are interesting," Mike says. The intricate complexities of Mike's compositions certainly provide a lot to look at and consider while viewing his work. There are tons of details to examine, leaving viewers captivated. Mike is an intuitive artist, preferring to work in the moment rather than plan too far ahead. He takes care when making his choices, utilizing his intricate design sense to juxtapose shapes, lines, and colors in many different ways. Mike's compositions are thoughtfully balanced with multi-textured and rich surfaces. Mike is comfortable working with both bold colors and soft hues, all sizes of canvases, and uses all of the artist's tools available to him. Tying all of Mike's work together is a cohesive and consistent color palette across both his acrylic and digital paintings. Mike's artwork has been shown throughout the tri-state area, including the Monmouth Museum, Grounds for Sculpture, Kathryn Markel Fine Arts in New York, and the Atrium Gallery in Morristown, NJ. Mike is also a frequent participant in Arts Access' annual Full Circle event.
See More Work By Mike Martin »