Untitled by Luis Rodriguez
Untitled by Luis Rodriguez
$30.00 – $50.00
Listed in Digital painting, Prints
This image was created digitally on computer.
A printed copy of the original work, size small. All prints use archival ink on premium paper.
Size: 8.5×11″ Print, 13×19″ Print, 17×22″ Print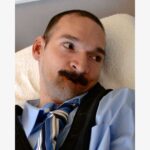 Luis has been an active participant at the Arts Access program for many years. During his time in Arts Access, Luis has created many traditional paintings and digital art, and has also written several plays and poems. A romantic at heart, Luis's work embodies the concept of eternal love and all the emotions that comes with it. Luis has a great personality that combines a fun, good-humored party guy side, with a sincere and sensitive side. Luis often combines these unique personality traits with his life interests in order to create his artwork. His traditional painting and digital art share similar themes such as his love for his family, baseball (especially the Yankees), patriotism, and women. However, his approach to the two mediums has been very different. In his digital art, Luis' work often uses soft colors and a linear quality combined with some representational elements, while his traditional paintings are often abstract and brimming with bold color and forceful energy.
See More Work By Luis Rodriguez »