$30.00 – $50.00
Listed in Acrylic on canvas, Prints
Acrylic on canvas, 34 x 48″. The original painting is sold; however, prints are available in three different sizes.
A printed copy of the original work, size small. All prints use archival ink on premium paper.
Size: 8.5×11″ Print, 13×19″ Print, 17×22″ Print
Year of Artwork: 2015, 2017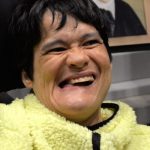 Since 1993, Ellen has worked tirelessly to explore her artistic visions. In that time, she has produced an impressive body of work as well as an effervescent and vivid art style to match her radiant personality. Ellen's art is characterized by geometric shapes and intricate patterns, often times paired with an assortment of textures. Ellen describes her work as "stylish and dramatic and original." With every painting, Ellen is looking to do something different and to create something beautiful. But above all else, Ellen says, "it makes me happy." During the creative process, Ellen displays a mastery of complex paint application techniques. She typically knows exactly what she wants her art to look like and knows exactly what tools and techniques she needs to achieve her goals. Her strong sense of design brings all elements together with intuitive harmony to create engaging compositions. This talent highlights Ellen's natural way of examining and acknowledging poignant moments in memory and history. The subjects of Ellen's work are often reflections of herself, her artistry, and the world around her. Ellen's artwork has been showcased throughout the region, including group shows at the Monmouth Museum, Morris Museum, Paper Mill Playhouse, and a two-person show at Zebu Forno in Morristown, NJ. One of Ellen's paintings is also on permanent display at the Johnson & Johnson Headquarters in New Brunswick, NJ. Additionally, Ellen is a frequent participant in Arts Access' annual Full Circle event.
See More Work By Ellen Kane »