Stained Glass Triangle Maze by Cheryl Chapin
Stained Glass Triangle Maze by Cheryl Chapin
$30.00 – $450.00
Listed in Digital painting, Prints
Pigment Print on Canvas 22 x 28″. This image was created digitally on computer.
"When I worked on this piece, I wanted it to be something different from all the others. My other pieces were just flat and one-dimensional. I needed to make something special and give this other dimensions so that it would pop out at the human eye and be something new. I thought I would make the colors come alive and make them jump off the paper and right at the person looking at the painting." Cheryl Chapin
A printed copy of the original work, size small. All prints use archival ink on premium paper.
Size: Digital Painting, 8.5×11″ Print, 13×19″ Print, 17×22″ Print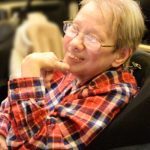 Cheryl Chapin is a lifelong NJ native and a member of the Matheny Community since 1998. Cheryl Chapin has been an active participant in the Matheny Medical and Educational Center's Arts Access Program since its inception in 1993. A resident of the Matheny Adult Residence in Basking Ridge, Chapin has been writing and creating visual art for nearly 30 years. Cheryl has noted that art making is her passion and feeds her soul. Her written pieces have often been showcased by Arts Access, sometimes in readings and other times performed by professional actors. But it is Chapin's imaginative versatility that has always stood out. As one of her former facilitators remarked, "Cheryl's passion for reading and conversation is infectious. She also gets joy from creating acrylic paints and digital art." Chapin's visual art has been exhibited at Overlook Hospital's Wallace Art Gallery in Summit, the Grounds for Sculpture in Hamilton; and the Johnson & Johnson headquarters in New Brunswick. In 2008 when the Paper Mill Playhouse in Millburn presented The Miracle Worker, Chapin was one of several Arts Access artists whose artwork was displayed in the theater's art gallery, and she also attended a special reception on opening night. Her favorite visual style is abstract digital art, but "sometimes," she says, "I just plop anything anywhere on the canvas to see what comes out." While her writing style varies, Chapin's favorite format is comedy. "I like to lighten the mood," she says. "I think it makes the performance more fun to come to." Known for her wit -- she once wrote a play about a day-in-the-life of the inhabitants of a fish tank -- Chapin said ideas "just come out of my head, and I just keep writing them. I like old stories about fancy ladies, old stories of the South." "Tea" is one of Chapin's favorite subjects. Her social comedy, Tea & Venom was performed in March 2021 as part of the New Jersey Theatre Alliance's Plays By People program. Other favorite subjects are "ghosts" and "the four seasons". When Chapin was a little girl, she collected Casper the Friendly Ghost dolls. "Every Christmas I would get a new doll. I had three or four of them. That's what got me interested in ghosts," she said, "but the ghosts I write about are not scary, they're funny." NASA's robotic landing on Mars sparked Chapin's creative juices. "I would like to write something about the people on Mars," she said, wondering, "What do they have for dinner?" Chapin turns to writing about the seasons when she doesn't know what else to write about. "That's the easiest thing to write about," she explained. Those writings take usually take the form of short poems with titles such as "Spring's Promise" "Fall Fling", and "Wintry Mix".
See More Work By Cheryl Chapin »