See You Again by Mark Riddle
See You Again by Mark Riddle
$30.00 – $50.00
Listed in Acrylic on canvas, Prints
This painting is titled: We Hope to See You Soon Cathy Hope to See You Again
Acrylic on canvas, 33 x 27.5″. The original painting is sold; however, prints are available in three different sizes.
A printed copy of the original work, size small. All prints use archival ink on premium paper.
Size: 8.5×11″ Print, 13×19″ Print, 17×22″ Print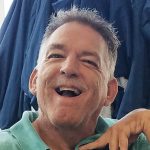 Mark Riddle is a born artist. Dedicated to his work, Mark constantly explored new methods and techniques in his painting. Much of his work contained organic shapes and color combinations that were unique to his style.
See More Work By Mark Riddle »