$30.00 – $50.00
Listed in Acrylic on canvas, Prints
Acrylic and colored pencil on stretched canvas, 24″ x 12." The original painting is not framed yet; however, prints are available in three different sizes. Please let us know if you are interested in purchasing the original painting.
A printed copy of the original work, size small. All prints use archival ink on premium paper.
Size: 8.5×11″ Print, 13×19″ Print, 17×22″ Print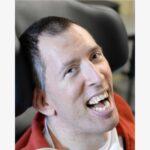 Mike was a multi-faceted artist and one of the original participants in the Arts Access program. His paintings often layer basic geometric shapes into more complicated patterns and designs. Mike had a brilliant sense of color and a sense of humor that shone through his working process. His innovative, jewel-like paintings tied together his interest in color and line, and are always intriguing and beautiful to look at.
See More Work By Mike Young »