Pennsylvania Church by Cindy Shanks
Pennsylvania Church by Cindy Shanks
$30.00 – $900.00
Listed in Acrylic on canvas, Prints
Acrylic on canvas, 29 x 68″
A printed copy of the original work, size small. All prints use archival ink on premium paper.
Size: Acrylic on Canvas, 8.5×11″ Print, 13×19″ Print, 17×22″ Print
Year of Artwork: 2016, 2018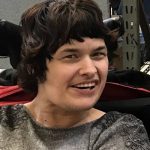 Cindy is a bold and expressive artist who joined the Arts Access Program soon after it was founded. Cindy loves experimenting with different paint techniques and tends to notice things other artists overlook. Cindy's art style is defined by confident, fluid lines, dramatic color palettes, and innovative compositions. Cindy describes her own artwork as "stylish and creative." She has a lot of fun when she is painting, and wants that to come across in her artwork, too. Cindy also says that "when people look at my paintings, I want them to really look at them." Cindy has an intuitive approach to painting, allowing the elements of the painting to emerge on the canvas in front of her as inspiration strikes. The compositions grow organically, as she introduces new colors and shapes in the moment. Typically, Cindy will start by selecting one color based on how she is feeling, and then the rest evolves from there. Cindy likes to work on large, custom sized canvas and frequently has more than one painting in progress at a time. Cindy's work has been featured in showcases throughout the region, including Grounds for Sculpture, the Arts in Healing Coalition, and Rutgers. She has one of her paintings on permanent display at the Johnson & Johnson Headquarters in Ohio. Cindy is also a frequent participant in Arts Access' annual Full Circle event.
See More Work By Cindy Shanks »