Messy Think by Richard Kozlik
Messy Think by Richard Kozlik
$30.00 – $50.00
Listed in Acrylic on Canvas, Prints
Acrylic and sand on canvas board, 20″ x 16." The original artwork is in a private collection; however, prints are available in three different sizes. A printed copy of the original work, size small. All prints use archival ink on premium paper.
Size: 8.5×11″ Print, 13×19″ Print, 17×22″ Print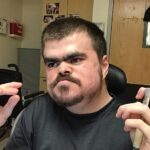 Richard is drawn to the center of the painting. Everything he does extends from the middle in some way; be it the direct origin, a transition site, or the point that other paint strokes bend around like a rock in a stream. Richard favors oranges and greens for his color palettes, and will often mix together custom shades from their primary base colors. As one of Arts Access' newest painters, Richard will debut his work at the 12th annual NJMS Collaborative ARTS Exhibit in 2022.
See More Work By Richard Kozlik »