A Year in Review
Every day is full of exciting achievements and creative freedom here at Arts Access. But there were some extra special moments this year. Join us for a review of some of this year's most memorable moments.
EVENTS
The Art of Choice; A Fine Art Exhibition at Sotheby's
Some artists dream of exhibiting their work in New York City. For five talented Arts Access artists, that dream became a reality this past February. The Art of Choice was Arts Access' premiere exhibit at Sotheby's in NYC, featuring the acrylic paintings and digital art by Chet Cheesman, Ellen Kane, James Lane, Mike Martin, and Cindy Shanks. This specially curated exhibition provided an opportunity to take a deeper look into the creative legacies of some of Arts Access' most prolific artists.
Read More about The Art of Choice
Plays by People, in collaboration with Premier Stages and the NJ Theatre Alliance
Arts Access with Premiere Stages at Kean University proudly presented the annual event "Plays By People" this past March. This free performance was sponsored by the New Jersey Theatre Alliance and was part of their month-long, statewide Stages Festival. This year's event featured a staged reading of an evening-length play written by Arts Access playwright Christopher Saglimbene, which was performed by professional actors from Premiere Stages at Kean University alongside Chris. Christopher was an integral part of the staging process, offering direct feedback to the actors on how to best present his written work, worked with the director to create sound cues and staging, and gained important critique and experience as a performer in the main role.
Read More about Chris and his play "Band on the Run"
Rutgers NJMS Collaborative ARTS Exhibition
The Collaborative ARTS Exhibition is one of the annual events that Arts Access artists and staff look forward to every year. This year's exhibit was on view from April through August, with an Artists' Reception in May. The artists were thrilled to see so many people enjoying their work on display. The staff and students at Rutgers were equally enthused about the installation, commenting how the artwork made a difference in their daily lives.
Read More about the history of this collaborative event
Art in the Park
Arts Access once again participated in Peapack-Gladstone's annual Art in the Park event. This community event celebrated its 20th anniversary this year! The event took place in Liberty Park this September and was a day full of art, music, food, and fun!
Full Circle: Art Without Limits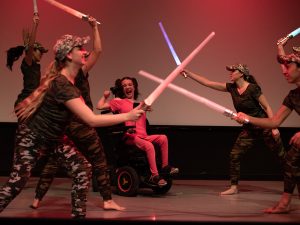 One of the most highly anticipated events at Arts Access, Full Circle is a multi-disciplinary fine arts showcase featuring original work created by the Arts Access artists. This year, Full Circle explored the very core of our program's ideology: creating art without limits. On Saturday, November 2, the doors of the Robert Schonhorn Arts Center opened wide to welcome the excited public for Full Circle 2019.
In the gallery, the talents of the Arts Access painters were on full display. The walls were lined with 65 acrylic and digital paintings. The wide breadth of styles, techniques, and motifs elegantly exemplified this year's theme of Art Without Limits. Several of the artists got to mingle with their fans and supporters, sharing insights and receiving praise for their work.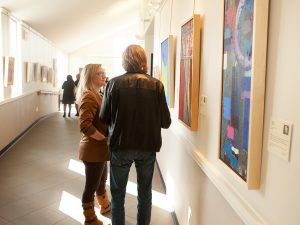 This year's stage show featured diverse work from 11 different Arts Access writers and choreographers. Three of those artists were first time participants in the Full Circle stage show. The audience laughed and cried, and all of the artists were met with thunderous applause at the conclusion of the show.
Read More about Full Circle 2019
PROJECTS
#TheatreForAll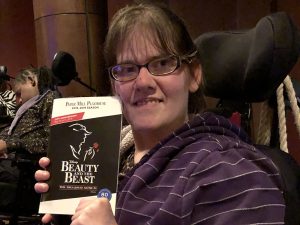 The artists working in the Arts Access drama program are passionate about their work, but don't often have the opportunity to see live theatre performances. Many artists recognize the importance of seeing the work of their contemporaries; the inspiration it sparks, the sense of comradery it forms between creatives, and just the joy of experiencing an artform that you love. The Friends of Matheny understood this importance, too, and generously agreed to fund a number of trips for the Arts Access dramatists to see live theatre in New Jersey. Two trips were planned, one in May, to see "Surfing My DNA" at the New Jersey Repertory Company and another in June, to see "Beauty and the Beast" at Paper Mill Playhouse.
Read More about the Arts Access theatre trips
Collaboration with RVCC
Arts Access dramatists, Amy Myers and Paul Santo studied theatre production at Raritan Valley Community College during July and August this summer. This marked the fourth-year collaboration between the RVCC Theatre Department and Arts Access. This year's class provided Amy and Paul with valuable practical theatre experience for work both on and off stage.
Read More about the collaboration with RVCC
IN THE NEWS
In February, CBS News came to Arts Access do a feature on our program and share the buzz about our event at Sotheby's that month.
In April, our director, Eileen Murray, got a chance to talk with Ernie Anastos at Fox 5 about the Arts Access program, the talented artists, and the incredible artwork they create.
In May, Leah Mishkin from NJTV News visited us to learn more about the Arts Access program and helps us share the accomplishments of our artists.
MISC
Arts Action Summit in Washington, DC
Once again this year, a number of our staff joined the Americans for the Arts at the National Arts Action Summit in Washington, DC in March. The Summit is a multi-day event bringing together arts advocates from across the country. Advocacy for the arts is vital to programs like ours around the country, and our staff is proud to help inform our leaders why the arts matter!
Read More about the National Arts Action Summit
Abilities Expo
Arts Access is a yearly exhibitor at the Abilities Expo. This event is all about bringing necessary products and services together under one roof for the community of people with disabilities, their families, caregivers, seniors, and healthcare professionals.
Read More about the Abilities Expo
Jersey Ad Club Awards
Arts Access was honored this year at NJ Ad Club's 51st Annual Jersey Awards. Our film "Art Without Boundaries," won three awards at the event, including Best in Show!
It certainly has been an exciting year at Arts Access! We'd like to say a very special thank you to all of our supporters for helping us continue to create great opportunities like the ones listed here for our artists. Thanks for an inspiring year!
To stay up to date on all the latest news and projects from Arts Access, be sure to join our email list and follow us on social media.