Creative and Confident
The first painting created by Lee Papierowicz at Arts Access is a decadent delight for the eyes. The canvas is full of gooey, delicious texture. Blues and reds dominate the space, interspersed with touches of green, purple, and white. Viewing the piece can bring both a sense of calm and energy as you get lost in the fine details of the splattered and dripping paint. Some paintings make you want to reach out and touch them, and Lee has certainly succeeded in tempting her audience.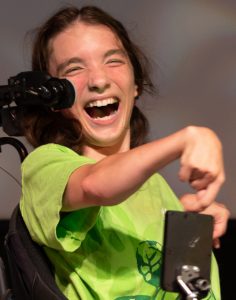 Lee is one of Arts Access' newest artists, though she has been creating art for many years before joining our program. She is a talented painter and choreographer who is fully dedicated to her artistry. She likes to experiment with different techniques and styles. Lee has said, "I like painting because it relaxes me." The painting featured here and Lee's first completed choreography, "Confident," were both included in this year's Full Circle event. She was also featured in a couple articles (one in September and another in October) about Arts Access in the months leading up to Full Circle.
Be sure to check back each month for a new Studio Spotlight! And of course, to stay up to date on all the latest news and projects from Arts Access, be sure to join our email list and follow us on social media.