Stylish and Creative Artwork
The Angel Bell was ringing on the hill once again, as Cindy Shanks completed her latest spectacular composition. Entitled Community Home, this new acrylic painting on canvas features large, bold shapes on a bright, primary blue background.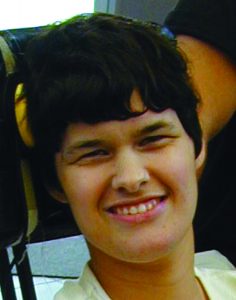 Cindy was one of the first participants in the Arts Access Program and is known for her bold and expressive approach to painting. She works intuitively, allowing the elements of the painting to emerge on the canvas in front of her as inspiration strikes. Cindy was also one of five artists chosen to participate in The Art of Choice, Arts Access' premiere exhibit at Sotheby's in NYC, which took place in February 2019.
Be sure to check back each month for a new Studio Spotlight! And of course, to stay up to date on all the latest news and projects from Arts Access, be sure to join our email list and follow us on social media.