Determined and Dedicated
"I love to paint . . . all of my paintings are in my head before I do them."
Chet was among the first artists to participate in Arts Access, over 25 years ago. In that time, he has produced a diverse portfolio of work in choreography, drama, painting, poetry, prose, and sculpture. A determined and dedicated artist, Chet likes to utilize a variety of styles and sensibilities to express his creativity.
Chet's sculptures feature a strong sense of geometric design, as he often incorporates squares, triangles, rectangles, and rounded cubes. Some will have a powerful vertical presence, featuring these shapes in an imposing or confrontational manner that demand attention, almost akin to totem poles or other archeological wonders of the past. The use of these solid geometric shapes paired with Chet's frequent use of brick, stone, and camouflage textures, could imply ideas of strength, boldness, and confidence to the viewer.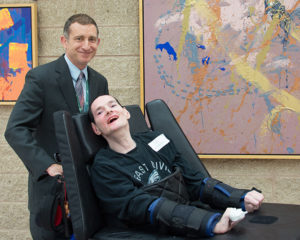 Equally as striking are Chet's acrylic paintings, some of which could appear to at first have a haphazard approach to their use of color and application. But closer inspection will reveal a well thought out and carefully designed plan. In fact, Chet has previously spoken about how he plans out his paintings ahead of time, fully visualizing them in his mind before arriving at the studio. While at the studio, he remains focused on his subject and composition.
Chet's sculptures and paintings are both bold in their execution, approached in entirely different manners, and yet showcase an extreme awareness of form, materials, options, and choices available. That Chet can have such a strong voice in both mediums, speaks to his ability to be thoughtful and yet daring at the same time, and extremely conscientious of the desired outcome.
Last year, Chet was one of five artists selected to participate in The Art of Choice, Arts Access' premiere exhibit at Sotheby's in NYC. This specially curated exhibition provided an opportunity to take a deeper look into the creative legacies of some of Arts Access' most prolific artists. It also served as an excellent opportunity to reintroduce the talents of the Arts Access artists to the NY metropolitan art scene.
Chet has an impressive ability to take chances with his techniques and embraces the variable outcomes those experiments yield. For these reasons and others, it is always exciting to see which artistic road Chet will travel next. To stay up to date with what Chet and all of our other artists are achieving, be sure to join our email list and follow us on social media.