ABOUT ARTS ACCESS
Matheny's Arts Access program empowers individuals with disabilities to create art without boundaries. Through the use of innovative systems and techniques, clients can take part in the visual, performing and literary arts. Regardless of their disability, clients are provided with the tools and materials needed to produce complete pieces of work.
On a daily basis, Arts Access fosters an environment of artistic creativity among the participating clients. The program improves the quality of life for the clients and those around them. In addition, Arts Access programming aids in changing the perception about the capabilities and talents of people with developmental disabilities.
FREEDOM OF CHOICE  •  ARTISTS ASSISTING ARTISTS  •  NEUTRALITY  •  NO PRECONCEPTIONS
DISCIPLINES
The Arts Access Program at Matheny Medical & Educational Center is designed to inspire, uplift and encourage the aspirations of artists with disabilities. In an effort to provide access to the same disciplines available to able-bodied artists, Arts Access offers courses in all of the fine, performing, and literary arts. Using systems and techniques specifically designed for each discipline, clients can create pieces of work that are distinctly their own.
Choose a program below to learn more about it.
DECISIONS & CHOICES
While freedom of choice is often limited in other areas of their lives, it is encouraged at Arts Access. Clients choose everything from the paint color & brush stroke to a dance or theatrical movement to the written word. Our program makes this possible by bringing clients together with professional artist facilitators.
Clearly-defined chart and menu systems help to establish all aspects of communication between the facilitator and the client.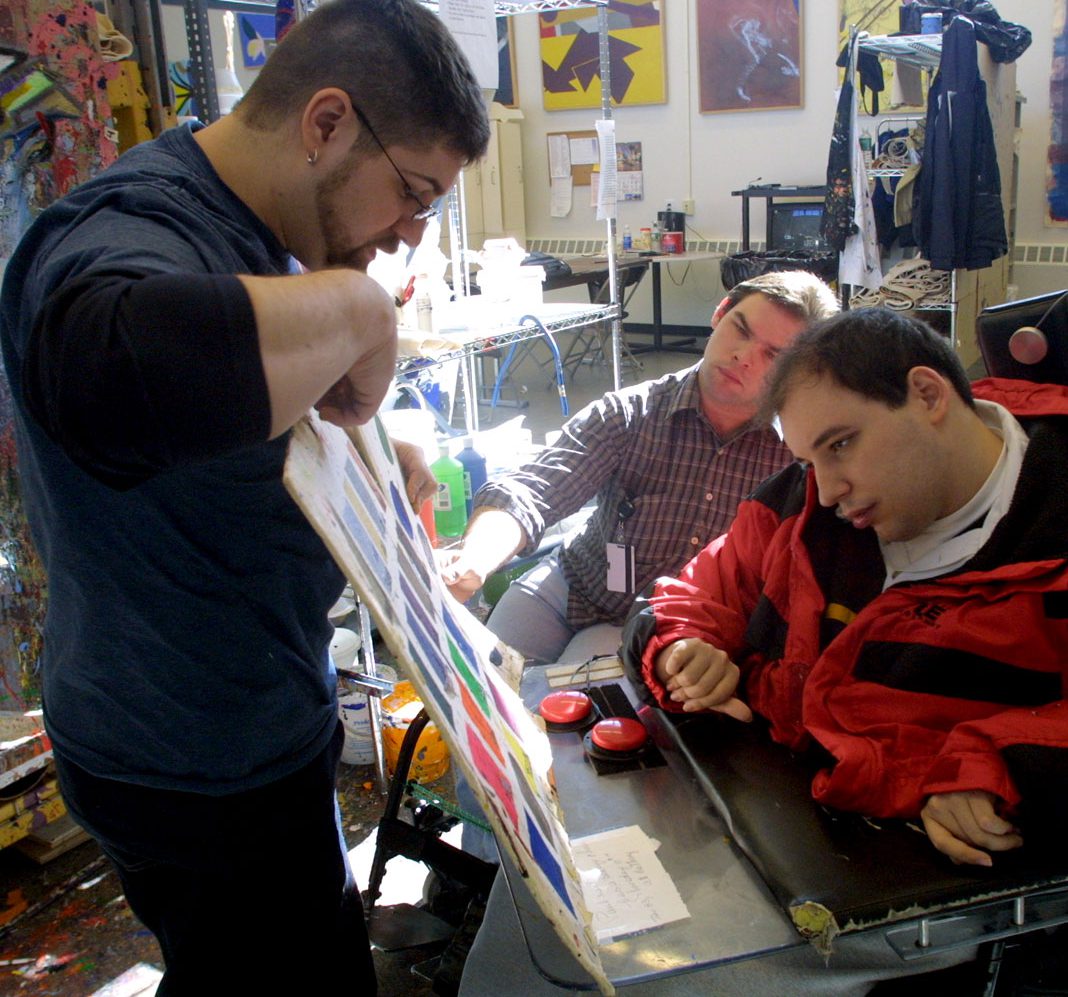 WORKING WITH FACILITATORS
"The client is the driving force of this work, [facilitators] are just technical ability. We're hands and feet and know-how."
– Keith Garletts, Outreach Coordinator/ Program Specialist –
The facilitators are working professionals in their area of expertise who have been trained to be the arms and legs of the disabled clients. They consciously maintain a sense of neutrality throughout the creative process, which demands a constant trust and respect between the two artists. The facilitator must never have preconceptions or assume what the client artist can or cannot do. The facilitator role provides a process for the client artists to create works that are purely their own and utilize fine art as a means of self-expression.